The winter season is fast approaching, and here at Wind Power we have been receiving a lot of interest in the snow sports that we participate in. So today, we decided to create a quick overview of the winter sport "Snowkiting".
(Wind Power's own Ben Herdrich Snowkiting on a warm day)
In this blog we will explore the concept of Snowkiting and the types of kites used while Snowkiting. Snowkiting is an amazing new sport that has been the talk of the town for a few years now, with all the new and advanced equipment, it makes the sport easier and more versatile for all types of riders.
Let's look a little bit into what exactly Snowkiting is and why it is becoming such a popular sport. Snowkiting is basically skiing or snowboarding with a kite. There is a lot that goes into this sport however, understanding the wind, flying the kite, edging, jumping, etc… With all these things going on, Snowkiting can become a very challenging sport that tests your limits each and every session. Wind Power recommends at first taking lessons (Snowkiting Lessons) to learn important safety concerns with kiting, and also how to actually FLY the kite. Learning how to properly fly the kite from an instructor makes it that much easier, and quicker, to get you up and running on your board or skis. A few safety factors are important to understand, you need equipment that will protect you in case you crash, fall, make a mistake flying the kite, or any other factor that can come into play. Pads are highly recommended since here in Wisconsin, we are mostly Snowkiting on frozen lakes and this can cause injuries if you are not properly protected. For safety, protection equipment and gear, check out this past article written by Wind Power: Winter Safety Equipment.
Let's talk a little bit about the types of kites used for Snowkiting. There are two specific styles of kites used in the winter season. The more traditional kite that is commonly used for Snowkiting is a Foil Kite link to Ozone Foil Kites.
Foil Kites are non-inflatable kites that capture air inside of various cells located on the leading edge of the kite (very front of the kite) to create the classic C-shaped outline the kite requires to properly fly. Below in Image 1 is an image of an Ozone Foil Kite. A few benefits to having a foil kite is the ease of packing up, the power that foil kites are able to generate, and the ability to kite in lower wind ranges. The foil kite is able to be easily packed away into a small backpack when in the backcountry, no need to release any valves to deflate the kite (we will explain this feature in the paragraph to come). A foil kite can also be used on land, some rider use foil kites to power buggies, mountainboards, and other land cruisers. These are just a few benefits to having a foil kite in the winter.
Image 1: Ozone Foil Kite
The second type of kite used in Snowkiting is a Power Kite or Inflatable Kite. This style requires air to be pumped into a "bladder" on the leading edge. In doing so, the kite takes on a "fixed" shape. A benefit of an inflatable kite compared to a foil kite is that inflatable kites can be used more easily on both water surfaces and snow/ land surfaces. This is due to the fact that inflatable kites can be "re-launched" from water surfaces much easier than foil kites. This allows kiteboarders to use the same type of kite on both water and snow/land surfaces. Referencing the previous paragraph, these kites have sometimes multiple struts lining the canopy to help give the kite its shape. Located below in Image 2 is a great picture by North Kites showing the leading edge, and the struts located on the kite.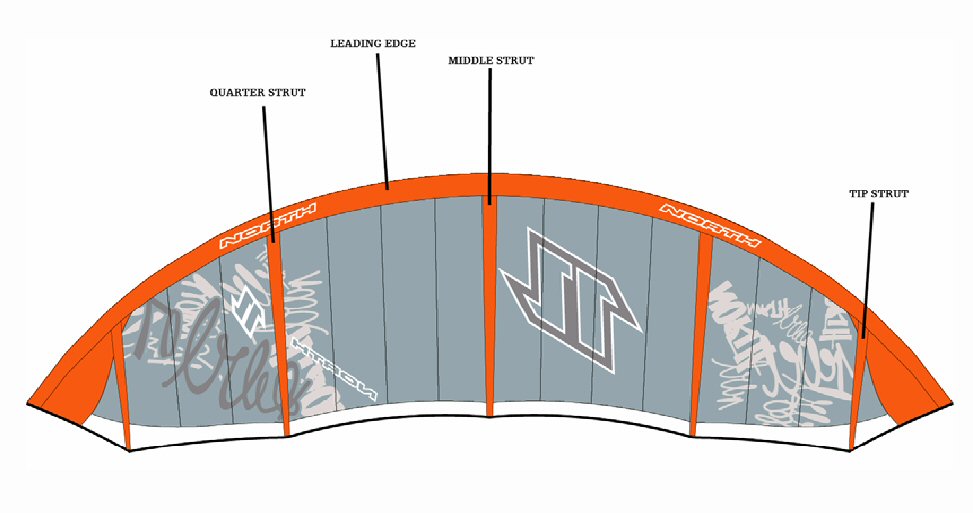 Image 2: Leading edge and Struts
The bladder and all the struts fill with air and this air needs to be removed to store the kite in its specific bag. This process is not a lengthy one so packing up takes just a little bit longer than the foil kite. Located below in Image 3 is a picture of a Naish Inflatable Kite. 
Image 3: Naish Inflatable Kite
Wind Power has been involved in Snowkiting from the beginning. Not only do we host races, events, demo, etc, we are also actively involved with Snowkiting instruction all winter long! Link to Winter Snowkiting Lessons page. Wind Power has the knowledge, experience, resources, location and support for ANYONE interested in pursuing Snowkiting.
~Team Wind Power~